\
Homeland Bentley & Rolls-Royce Rolls-Royce & Bentley Parts
Parts for cars other than Rolls-Royce & Bentley Restorations
Sporting Tires Ignitions Repairs & Services
Posh and in need of polish Cars for Sale Cool Stuff
Animal Rescue Fort Davis, Texas
Sport and Classic Car Company
and
Billions of Car Parts Company
10525 Airline Drive Houston, Texas 77037
Accessories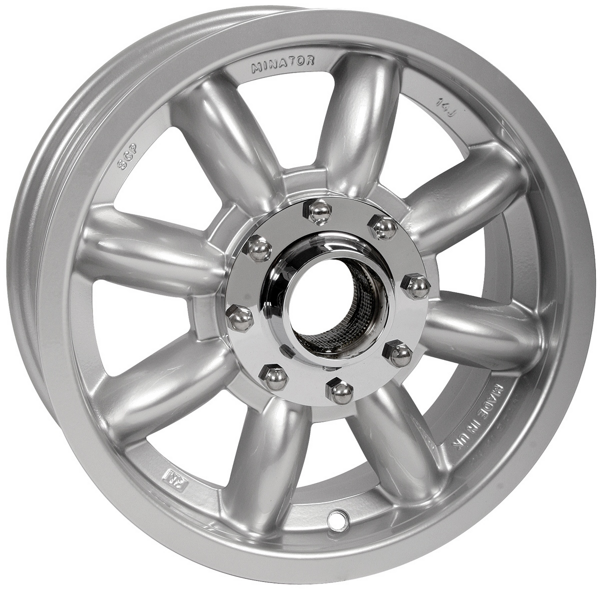 We supply spline drive wheels for MG Midget, MGB, TR6, and Austin Healey 3000. These are direct fit for cars that are fitted with wire wheels. These wheels balance nicely and go well with the Vredestein radial tires we usually have in stock.
We offer many motoring accessories for British cars. For Rolls-Royce and Bentley cars we offer custom made to original specifications lambs wool floor over mats for Rolls-Royce Silver Cloud, Silver Shadow and Silver Spirit and Silver Spurs and Bentley cars as well as nice stainless exhaust headers for MGB and performance cams, ignitions and coils. cross drilled brake rotors, stainless steel brake hoses, oil coolers, cross flow heads, alloy flywheels and many other speed enhancements for many British sports cars. Contact us for specific applications.
Our showroom and catalogs offer a nice variety of cool looking key fobs and shift knobs.
Here we are installing an MGB wood custom dash trim kit. These wood kits look fabulous and fit well.

We offer new wire wheels both painted and chrome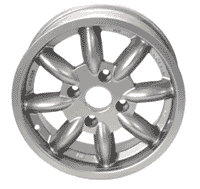 For MG and Triumph cars we offer these great looking wheels in direct bolt on style.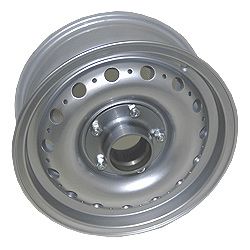 These spline drive wheels were made specifically for D-Type Jaguar cars and also fit E-Types fitted with the 15x6 inch wire wheels.
We offer Vredestein tires/tyres that go very well with Minilite wheels. Go to our tire section for more.
We supply KONI shocks and have for 35 years. KONI shocks are great for the front of a TR6 or Spitfire and for Jaguar XJ6 and XJ12 and XK140 and XK150 and E-Type. These shocks are stiffer than stock.

We offer a few ANSA performance exhaust systems and Falcon and Bell stainless steel exhaust systems. We supply performance ANSA exhausts for Honda, BMW, Toyota and many other makes. These are the best exhaust systems in the world. (period) They sound deep and throaty without being obnoxious and sound better and better as they age. ANSA exhaust systems look great and they last. Scotty has had a ANSA exhaust on his 1966 Austin Healey 3000 for at least 25 years, it still looks and sounds great.
We have ANSA exhausts for MGB's of all years usually in stock. MGB stainless headers are also usually in stock. These headers are nicely branched and fit well. We supply Bell stainless steel exhausts for many cars. We don't sell Pacesetter exhaust systems because they are very poorly made and rust out usually within a year. There are other firms that do sell junk parts but we really try to avoid selling parts that we find are junk.

We offer deluxe canvas and vinyl convertible tops, repair books, car badges, car stickers, Weber Carburetors and parts.
Automobilia and other interesting car stuff are in our showroom.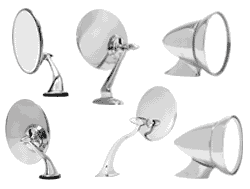 We offer many outside mirror styles such as these.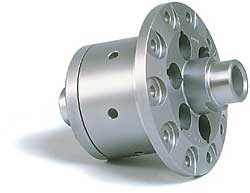 We supply an expansive line of posidrive (limited slip) differentials for MGA, MGB, MGC, many TR's and lots of other cars. Call with your application for pricing.

We offer brand new S.U. carbs as well for many models and rebuild S.U. and Weber carbs as well.
ANSA Exhaust systems
ANSA made some of the finest performance exhaust systems in the world for whatever cars they offered them for. They were exquisitely made and tuned to sound deep, throaty and just fantastic. The materials were very high quality. Most of these systems have been long discontinued for British car applications and new old stock systems nowadays are expensive and highly sought after as nothing made today remotely compares to ANSA systems.
We have a VERY few new old stock, rare and long unavailable ANSA systems available for cars such as late Spitfire 1500 and MG Midget.
We have an extremely rare and desirable new old stock ANSA exhaust system for a six cylinder Jaguar E-Type. These systems were discontinued 15 or more years ago. ANSA systems make fine music and no exhaust system ever compared to it. This is quite likely the last such complete new system in existence anywhere on the planet. Available for very substantial offer.
We have perhaps the rarest new old stock complete ANSA exhaust system remaining in the world for an Austin Healey 3000 BJ8. The system is still in the plastic wrapping. These systems have been unavailable for around 20 years and without a doubt were the best exhaust ever made. Just fantastic. Available for very substantial offer.
We sold the last of the ANSA twin exhaust systems for the 73-76 Triumph TR6. ANSA no longer makes this wonderful system and that's all folks.
We also buy new old stock ANSA systems.
For parts orders call 281.448.5165 or Click here and Send us an e-mail!
Sport and Classic Car Company
10525 Airline Drive
Houston, Texas 77037
USA
telephone 281.448.4739