Vredestein Classic Sprint Tires /Tyres
We are pleased to offer Vredestein Tires to our ever expanding universe of high quality automotive goods and services. We also supply tubes for the tires we sell for cars with wire wheels or rims that were designed for tube tires. The above photo is of the Sprint Classic tread design. These tires have a vintage appearance that looks right on the car. Vredestein tires handle, perform well and make less road noise than old Michelin's did. We can ship Vredestein tires/tyres to anyone that calls a tire a tyre or a tyre a tire! As the population of classic British cars has inevitably diminished over the years, the economics of production and changing styles and sizes has meant that very few quality tires/tyres are manufactured today that provide the ride and handling that fine sports cars really do need to drive as they were meant to and are very much still capable of today.
A new set of Vredestein tires on an Austin Healey 3000 or Jaguar E-Type will bring back fond memories of how delightfully well these cars handled in the 1950-1970's when they were often fitted with Michelin and Pirelli's after the original Dunlop tires wore out. Tests that were conducted by Classic Motorsports Magazine note that today's Vredestein tires handle better than the old Michelin X's did. There were many choices of great tires in those days but no longer. Fortunately for those that want good tires for their special cars, Vredestein makes fine handling tires in unpopular sizes that are perfect for many British cars!
Vredestein makes tires/tyres in the correct sizes that fit many cars found on the pages of our website. We offer Austin Healey tires, Triumph Spitfire, TR3, TR4 and TR6 tires, Bristol tires, Jaguar E Type tires, Jaguar XK120, XK140, XK150 tires, MGB and MG Midget tires, MGTD tires, MGTF tires, MGA tires, MGC tires TVR tires and many British car tires. Buy your tires/tyres from the people that do just about everything for British cars, the one, the only, the one only, only the lonely Billions of Car Parts Company!
Yes, we also supply tubes for wire wheel applications in certain popular sizes.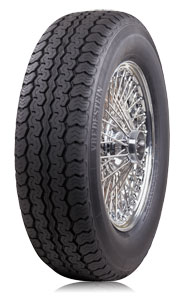 Sprint+ style tread design
Order your tire/tyres by e-mail classictires@oplink.net or call us at 281.448.5165

We offer the following sizes.
Enquire about availability for any size as supplies are inconsistent. Prices are subject to change whenever Vredestein decides to do so. This list is good as of July 8, 2011
Width Rating Size Style Cost in U.S.D. per each
135 R 13 Sprint+ $76.46
145 R 13 Sprint+ $80.30
155 R 13 Sprint+ $81.60
165 R 13 Sprint+ $96.40
175 R 14 Sprint+ $105.60
165/80 R 15 Sprint+ $127.26
Width Speed Rating Size Style Cost in U.S.D.
6.40/7.00 SR 13 Sprint Classic $140.40 190SL
205/60 VR 13 Sprint Classic $182.20
165 HR 14 Sprint Classic $140.40 MGB
175 HR 14 Sprint Classic $156.00 MGB
185 HR 14 Sprint Classic $158.00
195/70 VR 14 Sprint Classic $268.00
205/70 VR 14 Sprint Classic $276.00
155 SR 15 Sprint Classic $106.00
165/80 HR 15 Sprint Classic $144.00 Big Healey, MGA, Triumph TR3, TR4, TR4A, TR250, MGC, VW Beetle (early style) and Porsche 356 series. TVR2500 Vixen
175/70 R 15 Sprint Classic $143.00
185/80 HR 15 Sprint Classic $189.00 Jaguar 3.8 & 4.2 E-Type, Jaguar MKI and MK II, Triumph TR6
205/70 VR 15 Sprint Classic $277.00 Jaguar V12 E-Types
185 HR 16. Sprint Classic $394.00 Jaguar XK120, XK140, XK150, MKVII-MK IX, Bristol 407, 408, 409, Aston Martin DB4, DB5, DB6
Order your tire/tyres by e-mailing us at Classic British Car Tires
For parts orders call 281.448.5165 or Send us an e-mail!
Sport and Classic Car Company
10525 Airline Drive
Houston, Texas 77037
USA
telephone 281.448.4739